Top 10 Beach Wedding Spots for your Destination Wedding 
Destination weddings: stunning beaches, Margaritas flowing, Mariachi band is playing. If you are looking to relax on your special day - having a destination wedding is the way to know. I had my wedding in Mexico and it was the perfect day with the perfect ending. I snorkeled in the morning, had a massage in the afternoon and by the time the ceremony came around I was fed, happy, and most of all, stress-free.
However, it wasn't always stress-free. In fact, agreeing on a destination wedding was one of the topics that my husband and I CONSTANTLY fought about. So I wanted to write this blog post and simplify the search for you. I did some research online, and also for my own wedding a few years back, and came up with this list of top 10 Destination Wedding Spots to have your beach wedding:
10. Curacao.
Curacao is located just off the coast of South America, right next to Aruba. Not too many people know where Curacao is located, and because of this, this exclusive islands gets the number 10 spot. Curacao prides itself on having high end resorts and beautiful beaches.
9. Los Cabos
Located in Mexico is a wonderful, luxurious get away. Los Cabos has a ton of adult-only hotels. Prices of venues are definitely on the higher-end when comparing to other prices in Mexico, however the scenery is truly beautiful.
8. Puerto Rico
Puerto Rico is a perfect spot if you are looking for a "chill, relaxed" location without the typical hype of tourists. Don't get me wrong - there are obviously tourists, but from personal experience - beaches like in Rincon are perfect getaways if you are looking for that rustic wedding and some epic surf.
7. St. Lucia
Beautiful island with stunning views, rainforest and volcanic plugs. Your background for the pictures will look absolutely breathtaking. St. Lucia offers a wide variety of resorts with amazing beaches.
6. Dominican Republic
DR is known for the stunning beaches and Punta Cana. DR offers the most variety of all inclusive resorts. When researching your venues, don't forget to inquire about different wedding packages available.
5. Jamaica 
Beautiful beaches, stunning sunsets and tons of scenic spots. Most of all - 7 Mile Beach. Just imagine… 7 miles of crystal clear water and softest sand in the world.
4.Bahamas 
I visited Bahamas on a cruise and was amazed at the diversity of the place. On one have - you have Atlantis. You can purchase day passes and enjoy all of the amenities Atlantis has to offer. On another hand you have funky restaurants, downtown and tons of attractions. If you are looking to get away from the crowds there are plenty of smaller hotels, away from the crowds.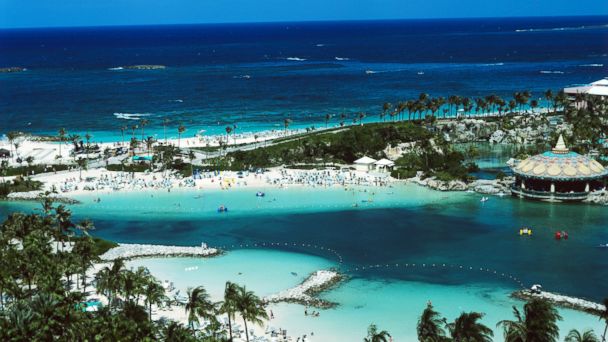 3.St. Martin 
St. Martin is a stunning place. It has everything you could ever ask for: the beautiful beach, the tropical sands and the stunning mountains. St. Martin is typically not your cheapest destination, however, there are plenty of hotels to choose from - depending on your budget.
2. Aruba 
Aruba gets the number 2 spot for a wonderful reason: It has the perfect weather year round. Aruba is located outside of the hurricane belt and rarely experiences bad weather. You sure won't have to worry about hurricane ruining your wedding.
1. Riviera Maya 
My person favorite. Not only because I had my own wedding in Mexico, but because it is a perfect getaway for "the traveler type". If you are looking to sight see, explore and submerge yourself in culture - Riviera Maya is perfect. Mexico's prices are exceptionally affordable.You've got the Mayan Ruins, the adventure parks, Cenotes, zip lining, partying in Cancun and getting a taste of Mayan culture of the Mayan in Tulum. Quite honestly, for the price we payed staying in Puerto Aventuras, we were able to fit in 3 days worth of adventure and exploring. This is why, in my opinion - Mexico definitely takes the win.
No matter where you chose to have your wedding - make sure you do a thorough research of the hotels and packages offered by all of the places. Keep in mind flight prices and the overall costs of the trip to your guests.
Until next time, Anna M :)


1 Response Leave a comment